Welcome to our Web Pages - If you have any questions or problems with our web pages please just call us (01400 230769)
     Fill the Gaps POSTAL only Auction no 23 also available to download
                                                                        see details below
<![if !vml]><![endif]>

BIL & CO POSTAL ONLY

Stamp Auction no 108

Saturday 11th December 2021

     APOLOGIES - THIS IS A POSTAL ONLY AUCTION

                                                            Please see Bils Editorial information below
                          Contact Details: Bil Tilbury (h) 01400-230769    (m) 07578-463155  
                                   email:   auctionsbil@btinternet.com
Addr: 6 Pottergate Road, Ancaster, Grantham, Lincs NG32 3QZ   web site: http://www.bilandco.co.uk/
2022 Dates: Saturdays – Feb 12, April 9, June 11, Aug 13, Oct 8, Dec 10
The Bil & Co POSTAL ONLY AUCTION ON-LINE Catalogue for DECEMBER 2021 - STARTS HERE:
BIL's DECEMBER 2021 EDITORIAL
Dear Collector,
Welcome to our latest catalogue and apologies that this is a POSTAL ONLY Auction. The reason is due to my need for a hip replacement. The date for the procedure was changed at short notice and means I now come out of hospital on the morning of the auction. We absolutely plan to be back 'Live and Kicking' once again next year. Roll on 2022 – Hip Hop rules OK!
Pre-Auction Viewing
Auction viewing is available from Monday 29th November to Friday 3rd December. We will limit the number of viewers to two at any time and book people in for an hour and a half viewing slot. If you want to view, please call us on 01400 - 230769 to get your session confirmed.
Auction Results – Despatch of Lots
We will post material to successful bidders as soon as possible or you can arrange collection from Ancaster. It is likely that there may be some delay in getting items to the Post Office – although we will minimise this as best as we can.
In this auction we hope you find something of interest and remember that I am happy to provide scans of appropriate lots or to talk through them with you on the phone.  (01400 230769).
Season's Greetings - Please stay safe, take care and we look forward to seeing you again in 2022.
<![if !vml]>
<![endif]>                  Bil, Janet and guard dog & 'Agilist' Kira  <![if !vml]>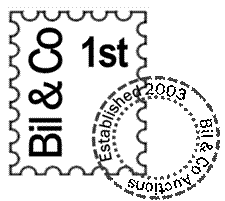 <![endif]>
           FILL the GAPS no 23

      Friday 14th January 2022

                         <![if !vml]><![endif]>  

DOWNLOAD FTG 23 catalogue:      FTG23_PDF       

FTG 23 Bidding form>      FTG_Bid_PDF         

Bids accepted by 5pm Thursday 13th January 2022

FTG Terms & Conditions (bidding steps)>  here
     To discuss specific lots or request scans, where possible, just call Bil on: 01400 - 230769
                                           Please also see our terms and conditions.
                       ……………………. Thank you for your interest - this is the end of our On-Line Catalogue  …………………..